Monarch Tractor is Reinventing the Wheel
Shortlisted
Author: Lucy Sheriff - Photographer: Jungho Kim
7 minutes read
Monarch Tractor has recently launched its first line of electric tractors with its groundbreaking MK-V model—the world's first full-electric, driver-optional, data-collecting smart tractor. Its CEO hopes the company is going to revolutionize the future of farming.
LIVERMORE, California
All is quiet on the farm—well, nearly. There's none of that deafening roar usually heard from a tractor's traditional diesel machine, brusquely plowing through fields. Instead, the MK-V model emits a lighter, clunking sound. It's also tiny (a slender 48.4 inches, compared to 72 inches on similar machines), slipping between rows of grapes with an almost graceful dexterity. It has taken Praveen Penmetsa and his team at Monarch Tractors six years of developing, testing, breaking, and fixing to create such an elegant machine.
Penmetsa comes from a long line of southern Indian rice farmers. Little surprise then that the 45-year-old ended up working in agriculture—sort of. As CEO of Monarch Tractors, a Silicon Valley meets Napa Valley "clean farming" tech company, Penmetsa is building a brighter future for farming through electric tractors. He and his team are determined to try to make farming profitable again. And they're doing that by offering a machine that has three advantages: Driverless, electric, and it collects data. This is a trifecta of features that, Penmetsa points out, no other company currently offers. Originally from Hyderabad, capital of southern India's Telangana state, Penmetsa was visiting his hometown in 2012, following a long stint working for electric battery companies like Toshiba and Panasonic, specializing in electric vehicles. On that trip home, electricity kept cutting in and out, resulting in frustrating work delays and steamily hot afternoons.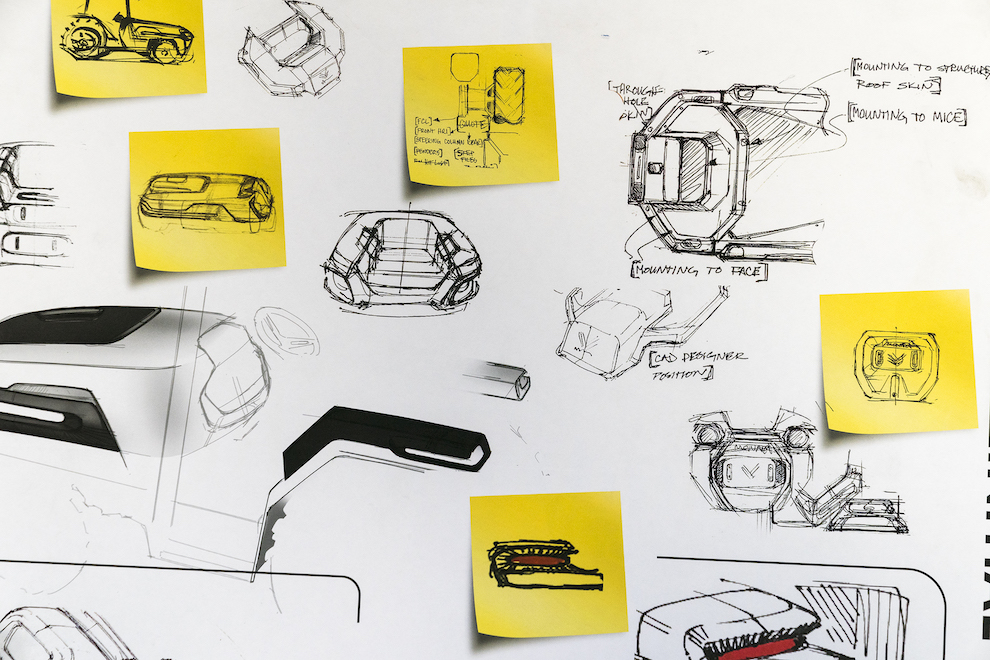 Penmetsa's mind began to wander—electric batteries store energy generated by the car. Was it such a stretch to imagine an electric car battery could power a home? "I would be thinking, oh, I wish I had that Prius we worked on, I would have power here," he says with a smile. "But that's a ridiculous notion."
Still, the wheels began turning—literally. If tractors were electric and could store power in their batteries, they could be relied on when a power cut hit. Nearly 60% of India's population works in the agricultural sector; an electrical tractor could kill two birds with one stone. "So you could use it out on the farm but also power the house in the village," Penmetsa elaborates. It didn't take long before he built a prototype with Zachary Omohundro, a robotics and remote systems expert, supported by grant funding from the U.S. Agency for International Development (USAID). "We took it to Maharajpet, a village just outside of Hyderabad, did the training, and told the farmers, 'Now you can drive it!'" he recalls. "But the farmers laughed at us and we found out that there were only two people in the entire village who knew how to drive a tractor."
That's when the idea to develop an autonomous tractor was born. "Farmers told us there's no future in farming. And I thought, oh, it's India; life is hard." But Penmetsa soon realized that the same sentiment was echoed all over the world, from Hyderabad to Sacramento. "Nobody felt like there was a future in farming," he says. "And that was the genesis for us to continue to work on this project." In 2015, Penmetsa returned to Silicon Valley, partnering with Mark Schwager, who had worked at Tesla, and Carlo Mondavi, scion of the famous Italian-American winemaking family.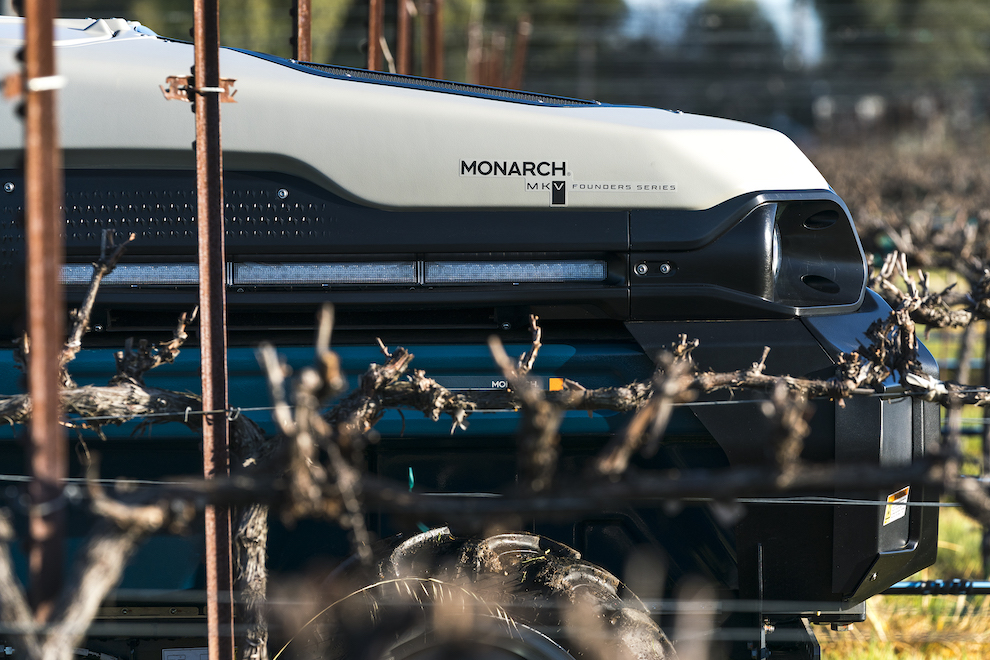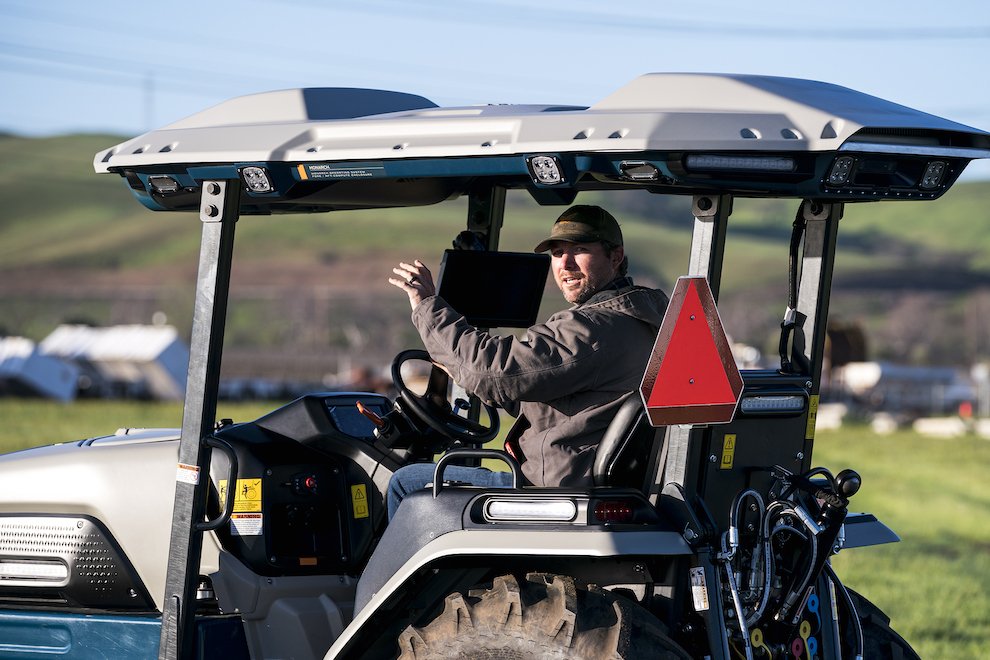 A solution to farming in crisis
The fact that life is getting increasingly difficult for farmers globally is an undeniable reality. In the United States, tighter immigration laws and the pandemic have caused the agricultural labor force to dwindle, driving up the cost of finding tractor operators—it costs roughly $30 an hour for a driver. While costs vary depending on region and crop, in the San Joaquin Valley, the rate for a driver on an almond farm in 2019 was just over $20 an hour.
And the domestic labor force is in trouble, too. The average age of an American farmer is 57, as the next generation of would-be farmers is moving out of rural areas, forgoing the family farm. Meanwhile, gas prices continue to rise, so farm machinery has become more expensive to operate. Small farms are going bust and declaring bankruptcy at record rates.
"COVID demonstrated that we don't have sufficient labor during peak periods," explains Scott Shearer, Professor and Chair of Ohio State University's Food, Agricultural and Biological Engineering Department. "In rural America, it's tough to find qualified labor for those seasonal periods." That's where Monarch's most significant success lies. According to their internal research, a wine grower using ten Monarch tractors for mowing, tilling and disking can save up to $79,000 a year in fuel, up to $200,000 a year in labor, and up to 500 tons of CO2 emissions annually. For farmers, that represents enormous savings.
Electrification
In industrial agriculture, tractors are typically huge machines capable of farming corn, wheat and soybeans, which make up roughly half of US farm revenue. On large feed farms, farmers use combine harvester tractors, which can weigh up to 25 tons and have up to 650 horsepower. Monarch's MK-V model is 75% lighter, weighing only 5,750 pounds.
"The shot over the bow is what we are seeing in California when it comes to lower horsepower tractors," explains Shearer. "Some processes on farms are very well suited to electric tractors; other things are more energy intensive and it'sgoing to take more time."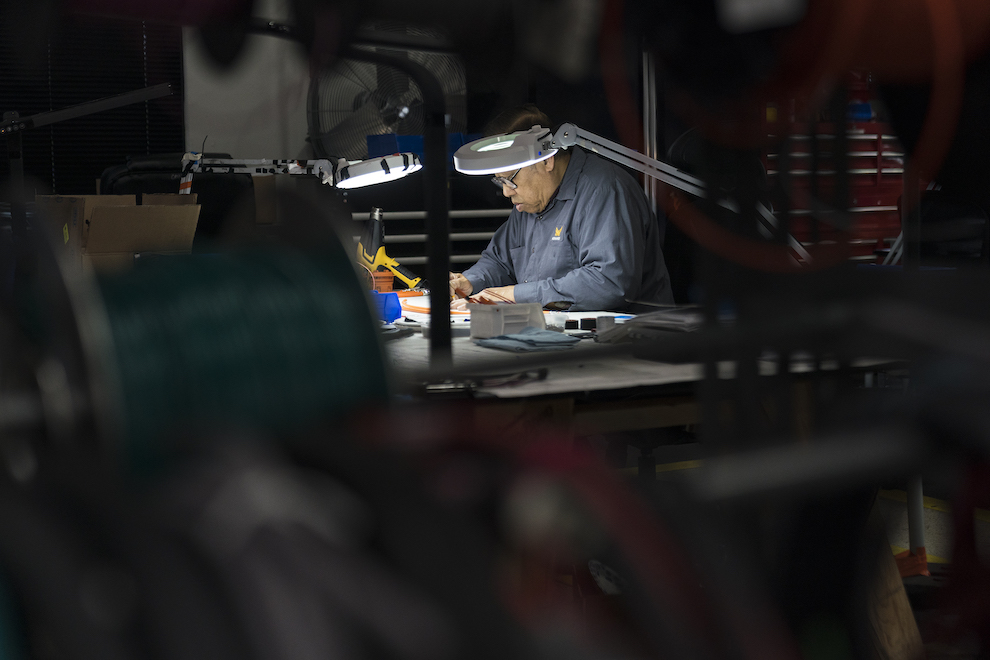 Monarch is also looking at providing farmers with their own source of electricity that can be used to either power their farm or sell back to the grid. While the tractors don't produce energy themselves, they are able to store it, which can be used as needed. "We're aiming for a closed-loop system," explains Penmetsa. "We're trying to increase rural grid resiliency." Ten Monarch tractors can store about 1 megawatt of energy. "And a lot of our farmers have 100, 200 tractors," says Penmetsa. "That's a lot of extra energy."
Thanks to the MK-V model's battery storage capabilities, the tractor doubles as a portable power source. The battery sits up on the tractor's hood, and although Monarch remains tight-lipped about storage size, Penmetsa discloses it was "more than a 100kWh." (By contrast, Tesla batteries store around 3MWh.) The Monarch battery can power around ten hours of "average" farmwork, such as spraying, or five hours of "heavier" tasks, like plowing. Inbuilt power sockets on the machine can power anything from a phone to an electric car. And since most farmers have several tractors working, ten tractors would equal 1Mwh of energy storage.
After requests from farmers, Monarch engineered a battery-swapping process that one trained person can handle in under 10 minutes. With enough extra batteries, the MK-V tractor can run non-stop. As some crops have a very narrow period of time when they can be harvested, this could be a game-changer.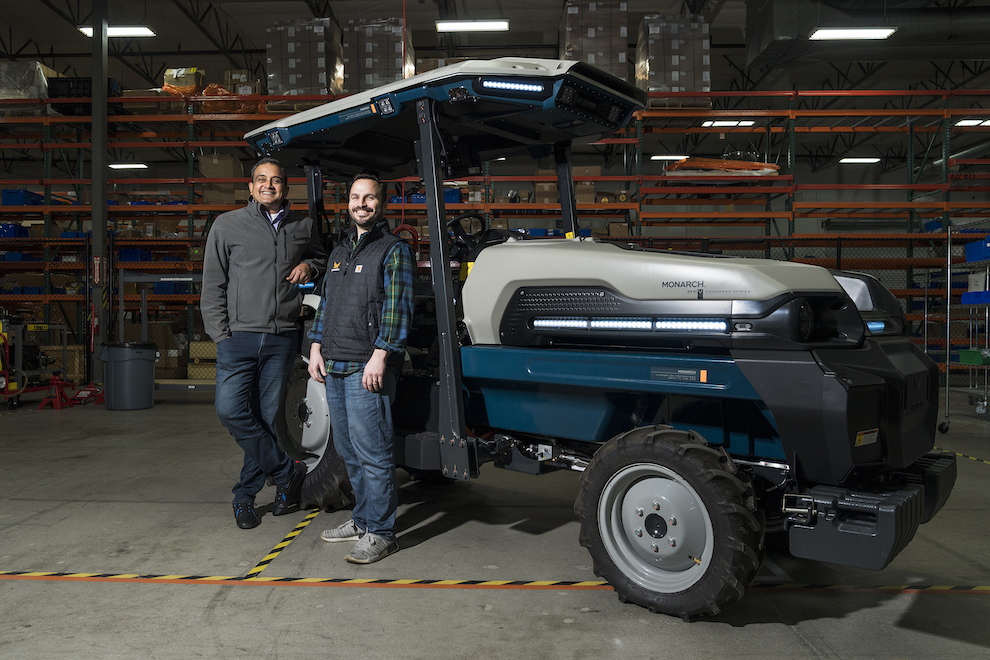 Driverless and Data-Driven
Monarch's driverless option is perhaps its most impactful aspect. Tractor accidents are the leading cause of injury and death among farm workers in the United States. Tractor rollovers (when a tractor overturns on its driver) cause an average of 130 deaths every year. Experience doesn't matter—80% of the deaths involve seasoned operators. Remote operation removes most of the danger from the equation, says Penmetsa, and farmers can manage multiple tractors at once from the Monarch app on their phones.
"Digitization of agriculture is everything," Shearer emphasizes. "If you can't measure it you can't manage it." Monarch's 360-degree cameras, mounted on the tractors and accessible to farmers at any time, feed a continuous stream of images to a central database. If something is amiss, the farmer is immediately alerted. "[Farmers] can have full traceability of what's happening on the farm," Penmetsa explains. "'What did we do six months ago? Is there a pest infestation on a particular row? Did we spray this row?' Those are questions we can answer."
Such data collection and storage capabilities are paramount for a future where an increase in unpredictable extreme weather events is resulting in catastrophic loss of crops; incredibly tight margins mean predicting crop yield is vital to making ends meet. It also means that farmers can spend less money on personnel. Yet the main difficulty for Monarch has been convincing farmers to use their tractors.
Penmetsa refutes any suggestion that the agricultural industry is slow to change. "Historically, agriculture has always been at the forefront of technology. It's only in the last twenty or thirty years, because of the profit margin reduction, that farmers have become extremely careful in technology investments." Instead, with profit margins so slim, farmers cannot afford to take risks. The best way to convince them, Penmetsa says, is simply to show them.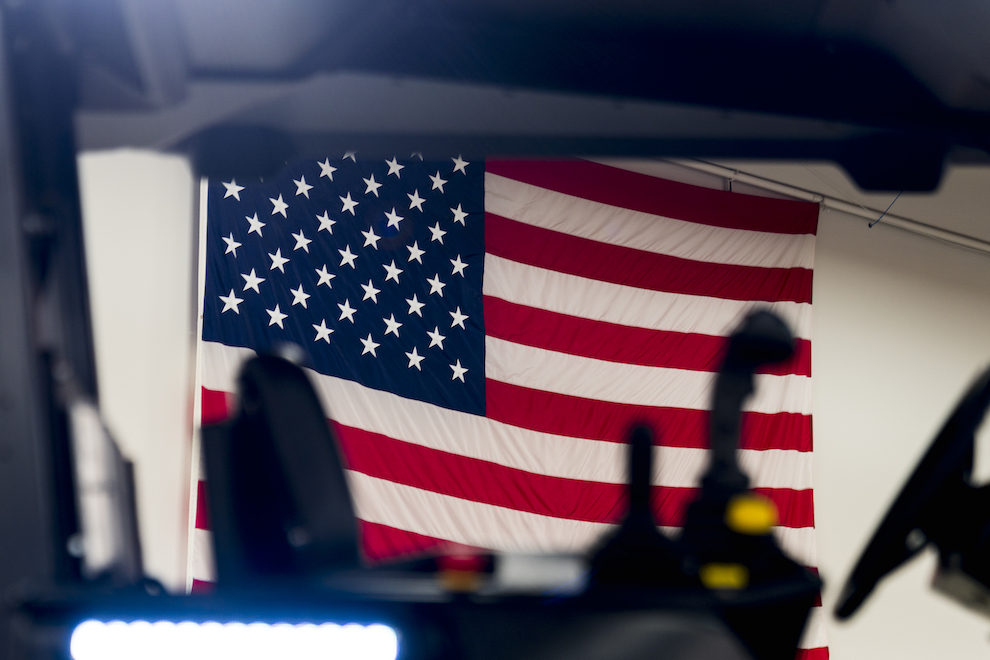 Coming full circle
Since its launch in 2012, Monarch has raised $81 million in funding over three rounds, through venture capital and other strategic partners, including agriculture equipment giant Case New Holland. Headquarters are at Livermore, just east of San Francisco, where two large buildings house around 220 research and development employees.
In Hyderabad, there's a team of 30, with another 15 in Singapore (with some government funding) working across data science. The geographical spread is an indication of Monarch's global aspirations. In November 2022, Monarch received a $3 million grant from the California Energy Commission (CEC) to accelerate development and rollout. The company is now in talks with large- scale agriculture machinery companies to license their technology.
Amidst all the wins Penmetsa has had in California, though, his heart is still at his family's farm in India. "One day I want to bring it to India," he says with a smile. "And see it on the rice farms."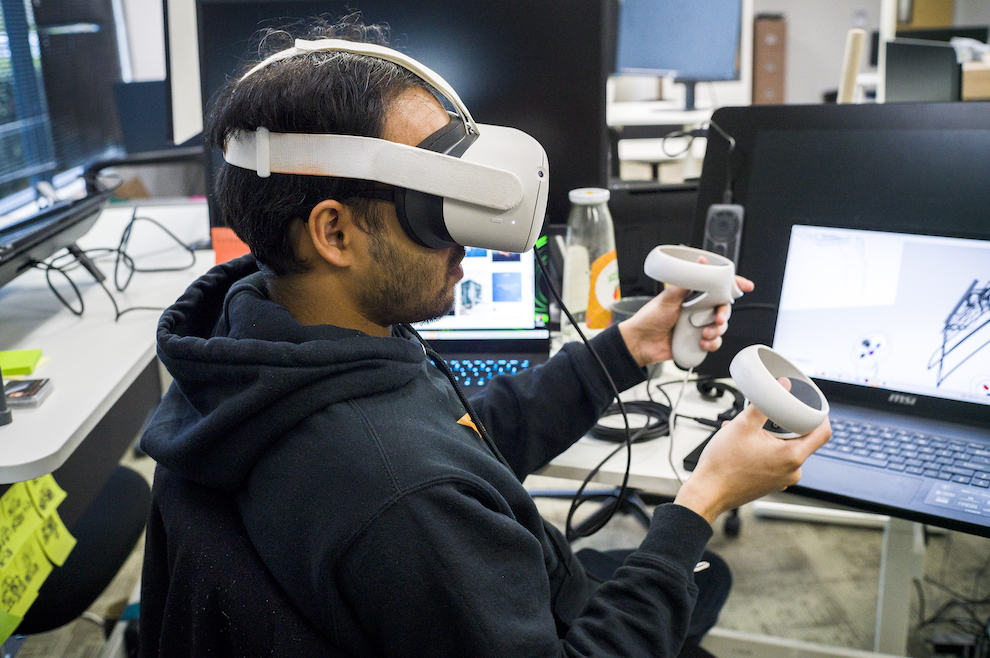 Any sustainable food game-changers on your radar?
We need your help pinning more Food Planet heroes down!